… 2020 Bill Masterton Trophy Winner Has 555 Points in 833 Career NHL Games … DETROIT – The Detroit Red Wings today agreed to terms with right wing Bobby Ryan on a one-year contract.
Ryan spent the last seven seasons with the Ottawa Senators and has appeared in 833 career NHL games with the Anaheim Ducks and Senators since 2007-08, totaling 555 points (254-301-555) and 443 penalty minutes. The 33-year-old forward and 2015 NHL All-Star has produced 50-or-more points in six of his 13 NHL seasons and is a six-time 20-goal scorer and four-time 30-goal scorer, posting career bests in 2010-11 when he racked up 71 points (34-37-71) in 82 games with Anaheim. Ryan has also skated in 51 career postseason games, notching 32 points (18-14-32) and 18 penalty minutes, ranking second on the Senators with 15 points (6-9-15) in 19 games in Ottawa's run to the 2017 Eastern Conference Final. In 2019-20, Ryan won the Bill Masterton Trophy for perseverance, sportsmanship and dedication to hockey after taking a four-month leave of absence from the Senators midseason to enter the NHL/NHLPA player assistance program. Ryan rejoined the Senators on Feb. 27 and totaled eight points (5-3-8) in 24 games, including a hat trick in his first game back with the team in his first home game after returning to the lineup.
A native of Cherry Hill, N.J., Ryan was originally drafted by Anaheim with the second-overall pick in the 2005 NHL Entry Draft. He debuted in the NHL by skating in 23 games during the 2007-08 season and was an NHL All-Rookie Team member in his first full campaign the following year after notching 57 points (31-26-57) in 64 games. Ryan also played parts of four seasons in the American Hockey League, totaling 77 points (33-44-77) in 70 games with the Portland Pirates and Iowa Chops between 2005-09, appearing at the 2008 AHL All-Star Game. An alumnus of the Honeybaked AAA Hockey Club, Ryan played his major-junior career with the Owen Sound Attack from 2003-07, where he is the franchise's all-time leading scorer with 325 points (133-192-325) in 249 games. Ryan has represented the United States at three international tournaments, picking up a silver medal at the 2010 Winter Olympics with two points (1-1-2) in six games and racking up seven points (5-2-7) in eight games at the 2012 IIHF World Championship and seven points (3-4-7) in seven games at the 2006 IIHF World Junior Championship.
… Three AHL Veterans Join Organization including Criscuolo, 2017 Calder Cup Champion in Grand Rapids … DETROIT – The Detroit Red Wings today agreed to terms with right wing Riley Barber on a two-year contract and center Kyle Criscuolo and goaltender Kevin Boyle on one-year contracts.
Barber, 26, is a veteran of 283 American Hockey League games, posting 217 points (106-111-217) and 204 penalty minutes over five seasons with the Hershey Bears, Laval Rocket and Wilkes-Barre/Scranton Penguins. Barber saw time with three teams in 2019-20 appearing in nine games with the Montreal Canadiens, logging 31 points (13-18-31) in 39 games with Laval and picking up six points (3-3-6) in seven games with Wilkes-Barre/Scranton after he was traded from Montreal to Pittsburgh on Feb. 20. Barber previously had a three-game NHL stint with the Washington Capitals in the 2016-17 season and has totaled 12 NHL games over his professional career. The 6-foot, 190-pound winger also has 15 points (5-10-15) in 38 career AHL postseason games.
Originally drafted by the Capitals in the sixth round (167th overall) of the 2012 NHL Entry Draft, Barber signed with the Capitals after spending three seasons at Miami University, where he scored at over a point-per-game pace with 123 points (54-69-123), a plus-24 rating and 62 penalty minutes in 116 games. Barber earned several collegiate honors, including CCHA Rookie of the Year and First All-Star Team in 2012-13 and NCHC Second All-Star Team in 2013-14, and helped the RedHawks to a conference championship in 2014-15. He also won a 2011 Clark Cup championship in the United States Hockey League with the Dubuque Fighting Saints and spent the 2011-12 season with the U.S. National Team Development Program. The Pittsburgh, Pa., native captained the United States at the 2014 IIHF World Junior Championship after winning gold at the event in 2013, combining for 12 points (7-5-12) in 12 games between the two tournaments.
Criscuolo, 28, returns for his second stint in the organization after starting his professional career with the American Hockey League's Grand Rapids Griffins, making his pro debut at the end of the 2015-16 season and winning a Calder Cup championship in 2016-17 as a first-year pro, posting 41 points (17-24-41), a plus-17 rating and 14 penalty minutes in 80 total regular-season games and adding nine points (5-4-9), a plus-six rating and 14 penalty minutes in 19 postseason games during the championship run. The 5-foot-9, 178-pound forward earned his first NHL contract that summer and played in nine NHL games with the Buffalo Sabres in 2017-18. In four professional seasons, Criscuolo has appeared in 221 AHL games with the Griffins, Rochester Americans, Lehigh Valley Phantoms and San Diego Gulls, notching 119 points (46-73-119), a plus-29 rating and 76 penalty minutes.
A native of Southampton, N.J., Criscuolo spent four seasons at Harvard University from 2012-16 and logged 113 points (53-60-113), a plus-42 rating and 46 penalty minutes in 124 collegiate games, serving as captain of the Crimson as a junior and senior. Harvard won an ECAC conference championship in 2015, and Criscuolo was a back-to-back ECAC Student-Athlete of the Year, All-Ivy League Second Team and All-ECAC Second Team member. Prior to his time at Harvard, Criscuolo spent the 2011-12 season in the USHL with the Sioux City Musketeers, notching 44 points (21-23-44) in 59 games.
Boyle, 28, joins the Red Wings after spending four seasons in the Anaheim Ducks organization. He played 20 games for their AHL affiliate, the San Diego Gulls, in 2019-20, posting a 9-7-2 record, 2.82 goals-against average and 0.911 save percentage. In 117 career AHL games, all with San Diego, Boyle owns a 62-38-10 record, 2.71 goals-against average, 0.915 save percentage and two shutouts. The 6-foot-1, 197-pound netminder posted a shutout in his first NHL start with Anaheim on Feb. 13, 2019, stopping all 35 shots he faced against the Vancouver Canucks. In five career NHL appearances, Boyle is 1-3-0 with a 2.17 goals-against average and 0.928 save percentage.
Originally signed by Anaheim as an undrafted free agent in March 2016, Boyle spent two collegiate seasons at the University of Massachusetts from 2011-13 before transferring to UMass-Lowell for his final two seasons (2014-16). Boyle capped off his senior season with Hockey East Goaltender of the Year and Player of the Year honors and was the most-valuable player of the conference tournament, going 24-10-5 with a 1.83 goals-against average and 0.934 save percentage in 39 games. The Manalapan, N.J. native was previously an All-Rookie Team selection in the British Columbia Hockey League after posting a 20-16-1 record with the Westside Warriors in 2010-11.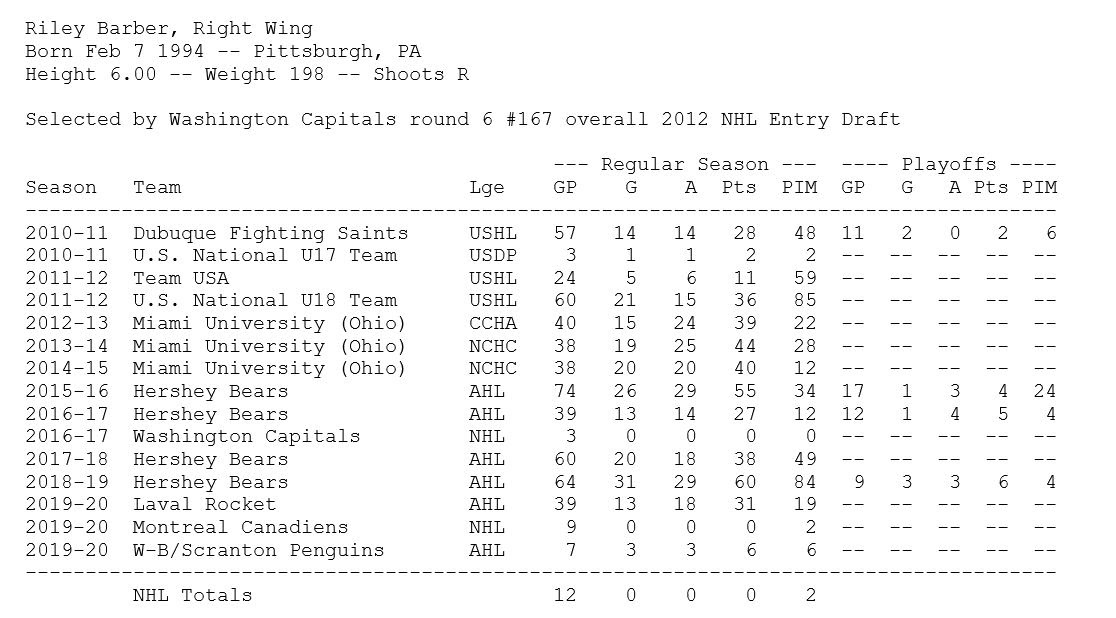 … University of Michigan Product Has Played 356 NHL Games with New Jersey and Vegas … DETROIT – The Detroit Red Wings today agreed to terms with defenseman Jon Merrill on a one-year contract.
Merrill, 28, has totaled 61 points (12-49-61) and 195 penalty minutes in 356 games between the New Jersey Devils and Vegas Golden Knights. The 6-foot-3, 195-pound defenseman skated in 49 games with the Golden Knights in 2019-20, contributing seven points (2-5-7) and 32 penalty minutes and also logged an assist in his lone postseason appearance. Merrill also ranked fifth on Vegas in blocked shots (71), while posting 51 hits and 14 takeaways in 18:09 average time on ice. The seven-year NHLer posted career-best numbers with Vegas in 2018-19, logging 15 points (3-12-15), a plus-16 rating and 53 penalty minutes in 57 games with the team. He was originally a second-round draft pick (38th overall) of New Jersey in the 2010 NHL Entry Draft and played four seasons with the Devils (2013-17) before joining Vegas through the expansion draft.
Merrill played parts of two seasons in the American Hockey League prior to making the NHL full-time, logging 18 points (3-15-18) in 27 games with the Albany Devils from 2012-14. A native of Oklahoma City, Okla., Merrill grew up in Grand Blanc and Brighton, Mich., and skated for the Little Caesars AAA Hockey Club until 2007-08. He continued to play in the state of Michigan for five more years, spending two seasons at the U.S. National Team Development Program, where he totaled 41 points (8-33-41) in 101 games from 2008-10, and then three years at the University of Michigan, picking up 47 points (11-36-47), a plus-25 rating and 45 penalty minutes in 82 games, making the CCHA All-Rookie Team and CCHA Second All-Star Team as a freshman. Merrill has represented the United States in international play on four occasions, winning back-to-back gold medals and totaling three points (0-3-3) in 14 games during the 2009 and 2010 IIHF World Under-18 Championships and nine points (1-8-9) over 12 games during the 2011 (earning bronze) and 2012 IIHF World Junior Championships.