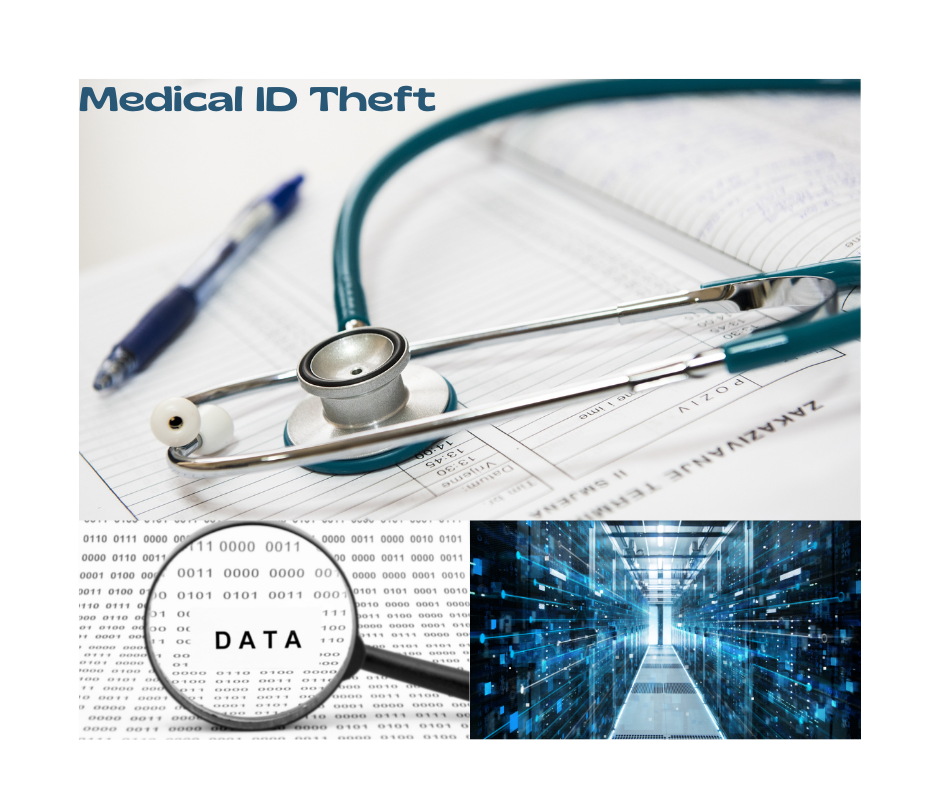 By Rita Pinder
Most people are concerned about money – and they should, however what if someone used your information, changed your (medical record) blood type which could result in your death or that of a loved one? What if you are allergic to a medication, however someone deleted the information and you receive a dosage while in the hospital for an emergency procedure? Healthcare personnel are not foolproof! Check the court filings. Mistakes happen every day!
Medical identity theft is becoming more common. A study in theJournal of American Medical Association showed that between 2010 and 2017, the number of medical ID theft cases rose almost every single year. Medical identity theft can happen when someone physically steals your information, such as your wallet with your insurance card in it or medical records that you or someone else threw out. According to Med City News, There were nearly 600 healthcare data breaches in 2020, a 55% jump from 2019, a new report shows. Not only did the number of data breaches spike in the past year, but the average cost per breach increased by about 10%.
27% of data breaches were related to medical records in 2017. 65% of victims needed almost $13,500 to pay off fraudulent bills. Victim studies showed 3% lost their jobs and 23% purposely gave their Healthcare info to someone they knew to help them out.
Medical identity theft can also happen when hackers steal information from health insurance companies and medical providers. Medical identity theft affects doctors, patients, insurance companies, and government agencies such as Medicare, and result in substantial losses. Medical identity theft is a violation of federal as well as state law, depending on the nature of the case and involved parties. The FBI, along with two other federal agencies, released a joint advisory warning that the U.S. healthcare system is the target of a concerted ransomware attack. Cybersecurity experts are urging healthcare organizations to shore up their IT networks and remain vigilant. (Med City News)
According to consumer.ftc.gov the punishment for medical identity theft is prosecuted as a misdemeanor, the maximum punishment for identity theft in California for example is a year in county jail and a $1,000 fine. As a felony, the penalty can be as high as three years in jail and a $10,000 fine. How can you protect against medical identity theft? Get a copy of your medical records. Under federal law you have the right to know what's in your medical records, except in certain circumstances. Check your explanation of benefits and credit report.
Protect your medical information. Keep your medical records, health insurance records, and any other documents with medical information in a safe place. These may include: health insurance enrollment forms health insurance cards prescriptions prescription bottles billing statements from your doctor or other medical providers explanation of benefits statements from your health insurance company. An explanation of benefits statement tells you the doctor you visited the date you visited the service is the doctor provided the cost of those Services how much your health insurance covered and how much you will have to pay. When you decide to get rid of those documents, shred them before you throw them away. If you don't have a shredder, look for a local "shred day". If it's something that's hard to shred like a prescription bottle use a marker to block out any medical and personal information.
How do you know if someone is using your medical information? Besides taking steps to protect your medical information it pays to know how to tell if someone is using your medical information. Here are some warning signs:
you get a bill from your doctor for services you did not receive.
You notice errors in your explanation of benefits statement like Services you didn't get your prescription medications you don't take.
You get a call from a debt collector about a medical debt you don't know.
You review your credit report and see medical debt collection notices that you don't recognize.
You got a notice from your health insurance company saying you reached your benefit limit.
You are denied insurance coverage because your medical records show a pre-existing condition you don't have.
What do you do if someone is using your medical information?
Get your medical records
Review your medical records. Report errors.
You may also get your free credit report and Report medical billing errors. Go to annualcreditreport.com.
Review your credit reports. Report errors.
Create a personal recovery plan. It's a lot of work however if you need assistance you may go to identitytheft.gov to create a personal recovery plan or
Subscribe to a service like ID Shield and have them help you through the process.
Contact me for additional information or to set an appointment. 
Rita H. Pinder
Pinder, Pinder & Associates, LLC
Email: contactus@pinderpinderllc.com
Website: https://ritahpinder.ladiesofjustice.com/
To set an appointment: https://calendly.com/ritahpinder-1?month=2021-05