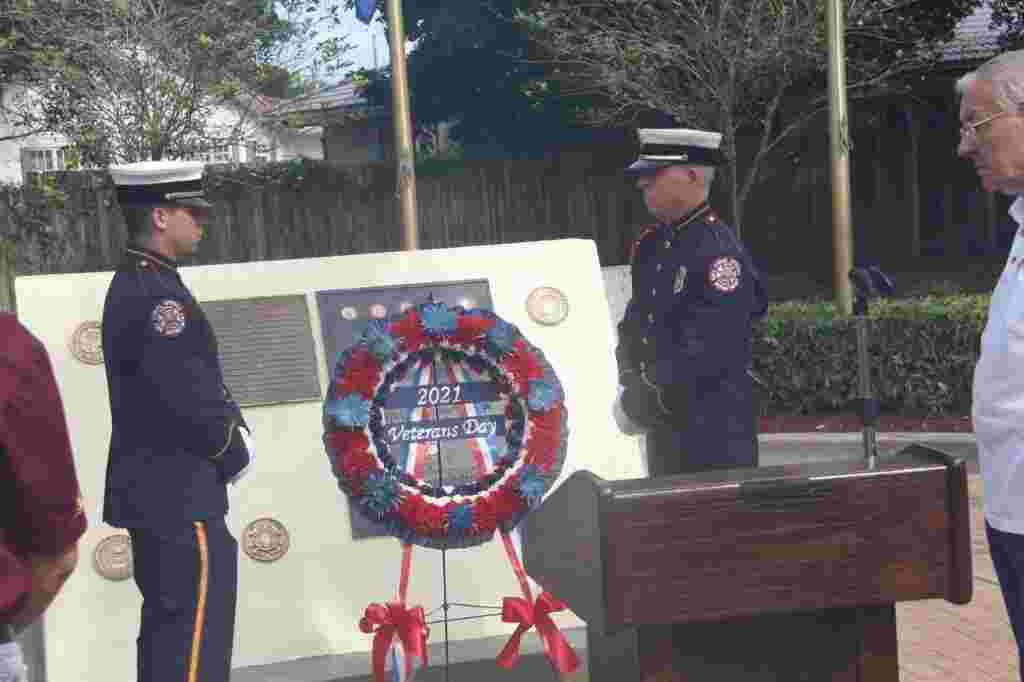 The City of Coral Springs honored current and former military members during a Veterans Day ceremony at Veterans Park.
Members of the Coral Springs Commission and various community leaders spoke and encouraged people to thank veterans for defending our freedom. Leaders from the veteran's community also spoke. Toward the end of the ceremony, veterans were encouraged to introduce themselves and share their military experiences.
Mayor Scott Brook spoke and said, "There are so many veterans who have given everything for the nation and our freedoms. I believe it is very important that we thank and honor people who are in the military and veterans."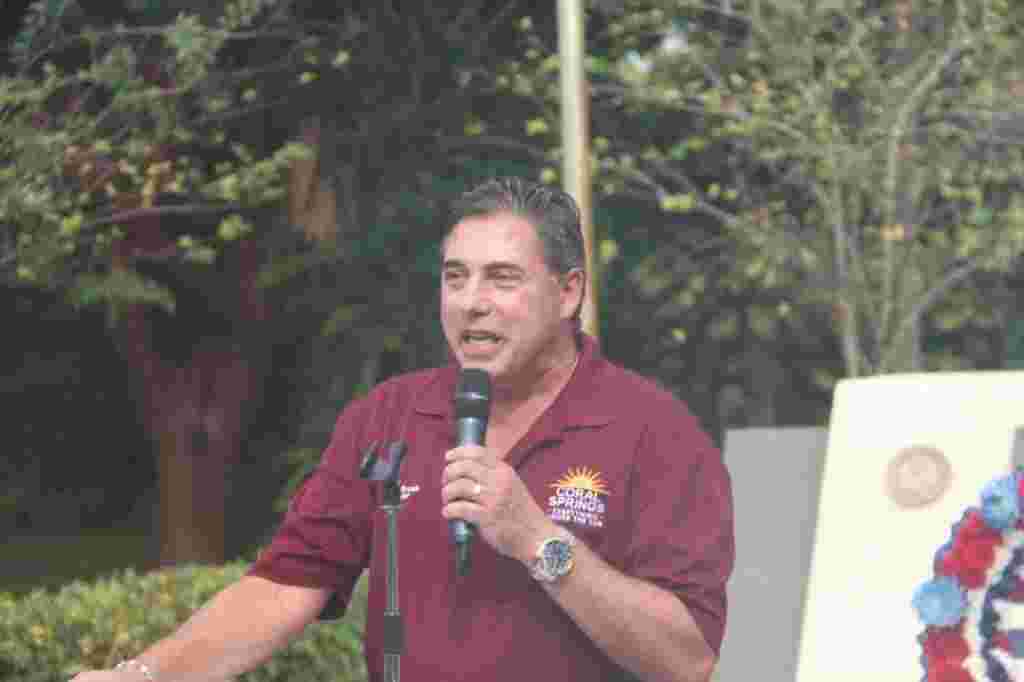 Brook also encouraged people to set aside their differences and work together. "We should not think of ourselves as red and blue but red, white and blue," he said.
Vice Mayor Joshua Simmons spoke and described the challenge of having a mother who was serving in the military. "I would talk with my mother on the phone and she would say I have to leave now. Members of the military make sacrifices for all of us. They pack their bags and go wherever the military sends them. It is important that we thank our military veterans for their sacrifice and service to the nation," said Simmons.
Commissioner Nancy Metayer said, "We honor our veterans for protecting our freedom. It is important to honor our veterans."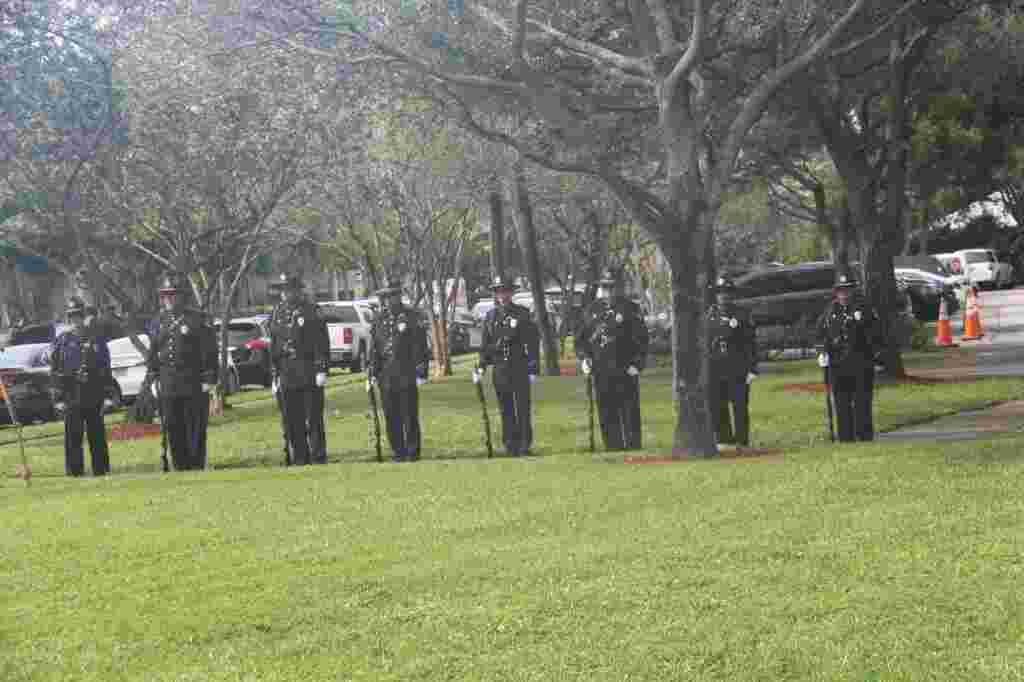 Commissioner Joy Carter said it is important for people to show appreciation and honor the service of veterans.
Dr. Ana Barbosa, manager of diversity, equity, and inclusion for Coral Springs was the keynote speaker. She is a retired Senior Master Sergeant, First Sergeant of the U.S. Air Force. She served in Iraq Freedom, Enduring Freedom, and Inherent Resolve in Iraq, Afghanistan, and Kuwait.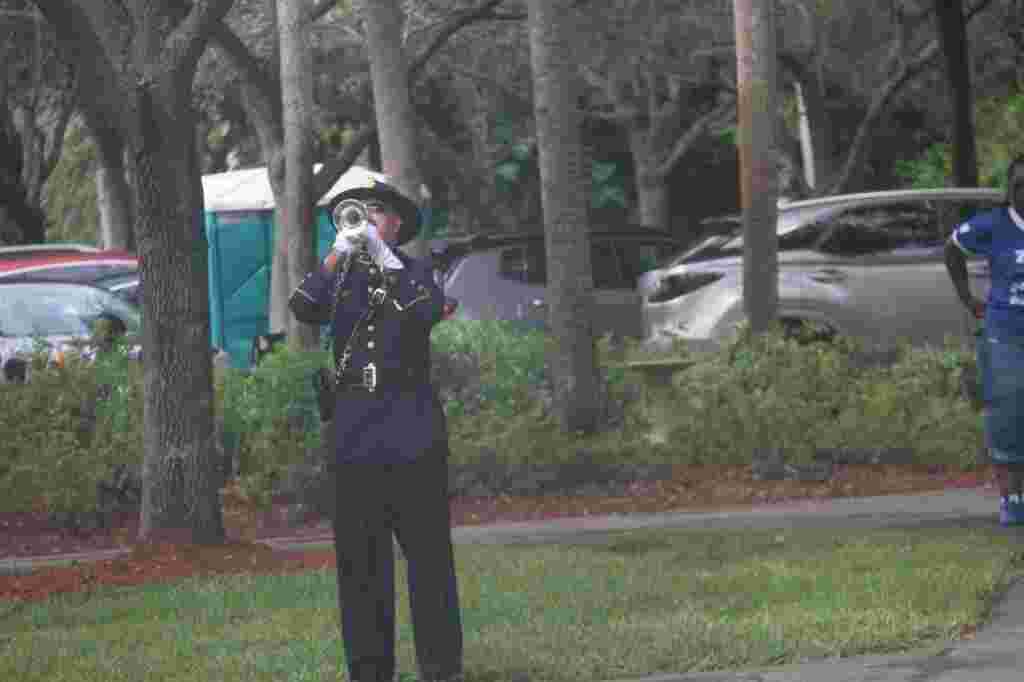 "There are no words to describe the gratitude we feel for the men and women from all walks of life who serve in the military. Most veterans are proud of their service but they won't share their pain. In the military, we are taught to suck it up or embrace the suck. But there are many veterans who are dealing with PTSD and other pain from their time in the service," she said.
Barbosa described how she had lost friends to PTSD and the reality that many people struggle when they leave the military and re-enter civilian life. She encouraged members of the community to show support for veterans.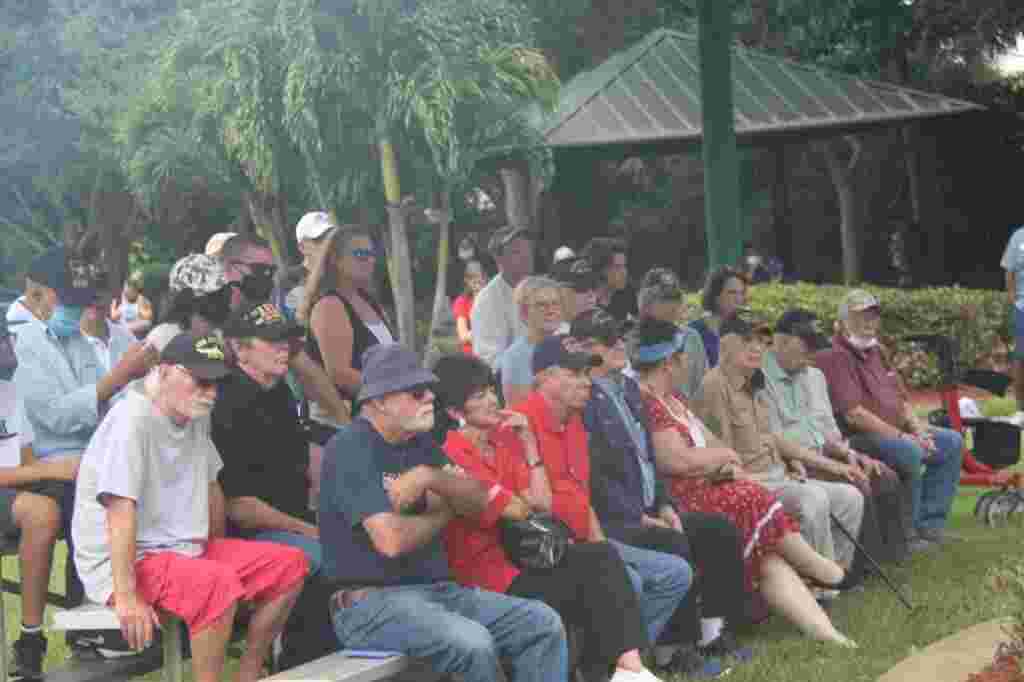 The ceremony included the singing of the National Anthem by students from the Forest Glen Middle School Chorus. A check for $1,200 was presented from Coral Springs Charter School students to the Veterans Coalition of Coral Springs. A wreath was laid by the Coral Springs Parkland Fire Department. The Department's Honor Guard presented the colors. Pastor Randall Cutter of New Dawn Community Church gave the innovation and benediction. Ernie Kubasek, president of Veterans Coalition of Coral Springs gave the welcome and closing.
Veterans of all ages attended the event. Some have recently served and Iraq and Afghanistan. There were many who served in Vietnam. And there were a few who has served in Korea and World War II.
Peter Weinstein, a veteran of the Army and a former Florida State Senator said, "Freedom is not free and we should remember this. We should honor the veterans who fought for our freedom."