By Louis Addeo-Weiss
Down by the shores of Boca Raton, Florida, Week seven of the College Football season presented us with a Conference-USA matchup, as the Florida Atlantic Owls took on the Middle Tennessee Blue Raiders.
FAU, coming off a bye in week six, entered the day having won their last three decisions, improving their record to 3-2.
When it was all said and done, behind a strong FAU defense, highlighted by Meiko Dotson and Rashad Smith, and a big game from running back Malcolm Davidson, who finished with 149 rushing yards, the Owls cruised to a 28-13 victory, improving their record to 4-2 and 2-0 in Conference USA games.
For QB Chris Robison, who entered the game second in the conference in passing yards, the first quarter saw the sophomore, playing in his first full season as the team's starter, Saturday's game saw him bailed out, in part, by the run game.
In the end, Robison threw for a season-low 145 passing yards, and one touchdown.
Asher O'Hara, Middle Tennessee's own field general, his team's first three possessions, both of which started before the 20-yard line, a 29-yard pass to Jarrin Pierce helped set up the first scoring drive of the game, as a 30-yard pass to CJ Windham gave the visiting Blue Raiders a 6-0 lead.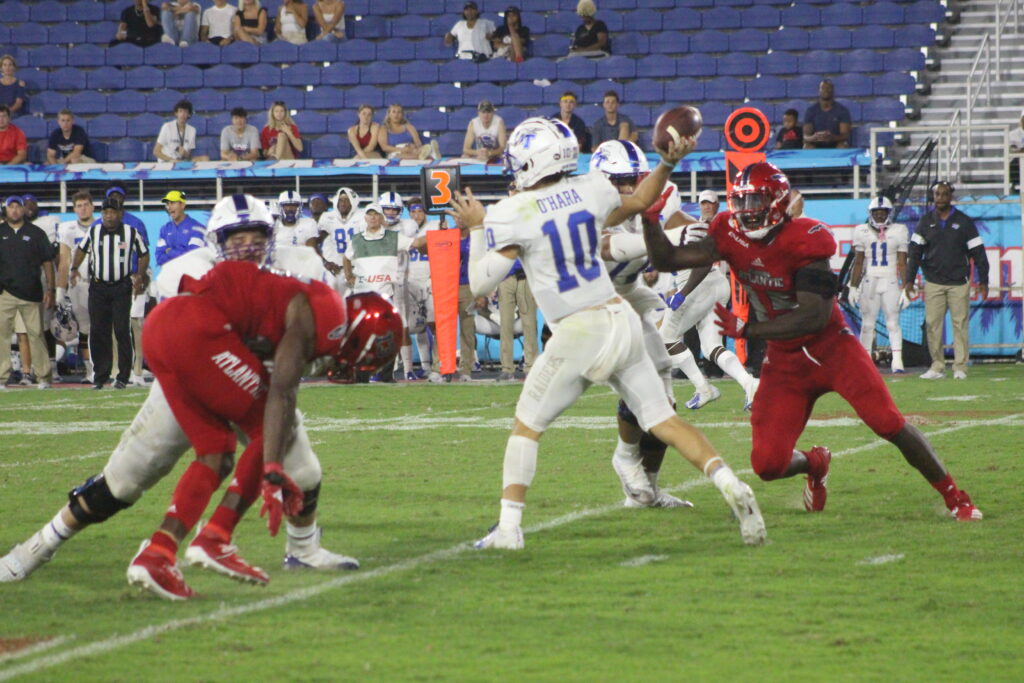 FAU would get on the board following on a blocked field goal return by starting linebacker Akelis Leroy, making it a 6-2 MT lead, a score that would stick through the first quarter.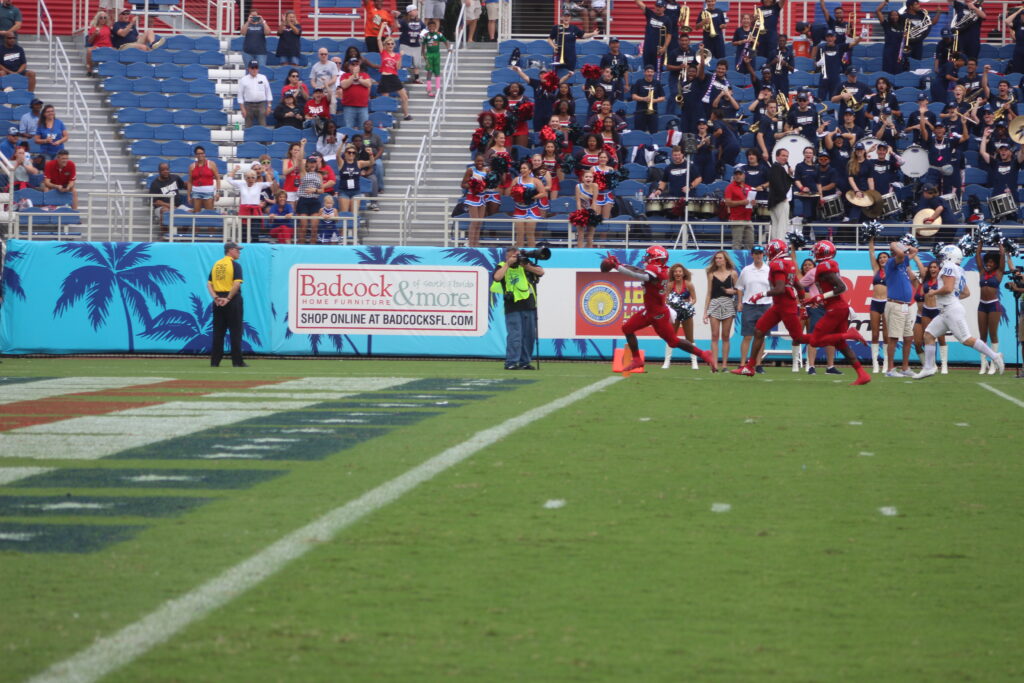 O'Hara's rough starting field positions saw an early emphasis placed on the long gain, as the sophomore threw for 100 yards during the first quarter, highlighted by the touchdown pass to Windham. In their week five 48-3 drumming to 14th overall Iowa, O'Hara, only managed 110 total passing yards.
Despite a promising start, Robison and company picked up production during the second quarter, with a 12 play drive culminating in a 4-yard touchdown pass to John Mitchell, his fourth receiving TD of the season, and extra point by Vladimir Rivas, making it a 9-6 FAU lead.
FAUs defense's biggest issue early on seemed to be containing O'Hara, who entered the game as the team's leading rusher, with 311 yards on the ground, the most of any offensive player on the roster. O'Hara would finish the night as the leading rusher for Middle Tennessee, amassing 57 yards across 17 carries.
To add insult to injury, an 8-play, 75 yard drive was capped off by a 9-yard scramble by the aforementioned O'Hara for his third rushing touchdown of the season. After the extra point and field goal by FAU kicker Vladimir Rivas, the score stood at 13-12 Middle Tennessee, a mark that would last through the first half.
A key play in the game came in the third quarter when Robison, targeting tight end Harrison Bryant, threw into the hands of safety Reed Blankenship, who picked off the pass before dropping it going down. The possibility of a turnover, which would've been the first and only of the day for FAU, could have signaled a turning point in favor of Middle Tennessee in what was, at the time, a 15-13 Owls lead.
After limiting O'Hara for most of the third quarter, FAU began to separate themselves after a 57-yard touchdown run by Malcom Davidson gave the Owls an 8 point lead. Davidson, a second-year freshmen who entered play with 146 yards and two rushing touchdowns, posted the first game of 100+ rushing yards since the school's 2018 week 11 matchup against Western Kentucky when running backs Devin Singleterry and Kerrith Whyte ran for 148 and 163 yards respectively.
Beyond the offensive spotlight already shined on the Owls, maybe the most impressive aspect of Saturday's win was the defense.
While he led the team with rushing yards today, O'Hara's previously mentioned 9-yard score, which came at 4:17 in the second quarter, managed to be the last score of the game for a Middle Tennessee team who struggled to muster any quality offense in the second half, posting goose eggs in the third and fourth quarter.
After O'Hara's second interception of the game, a pass picked of by linebacker Rashad Smith, FAU would add on, making it a 28-13 lead with a one-yard rushing touchdown by Larry McCammon.
The last attempt Middle Tennessee had to score was botched when O'Hara's pass was intercepted by Meiko Dotson, who finished a great day in Boca with two takeaways.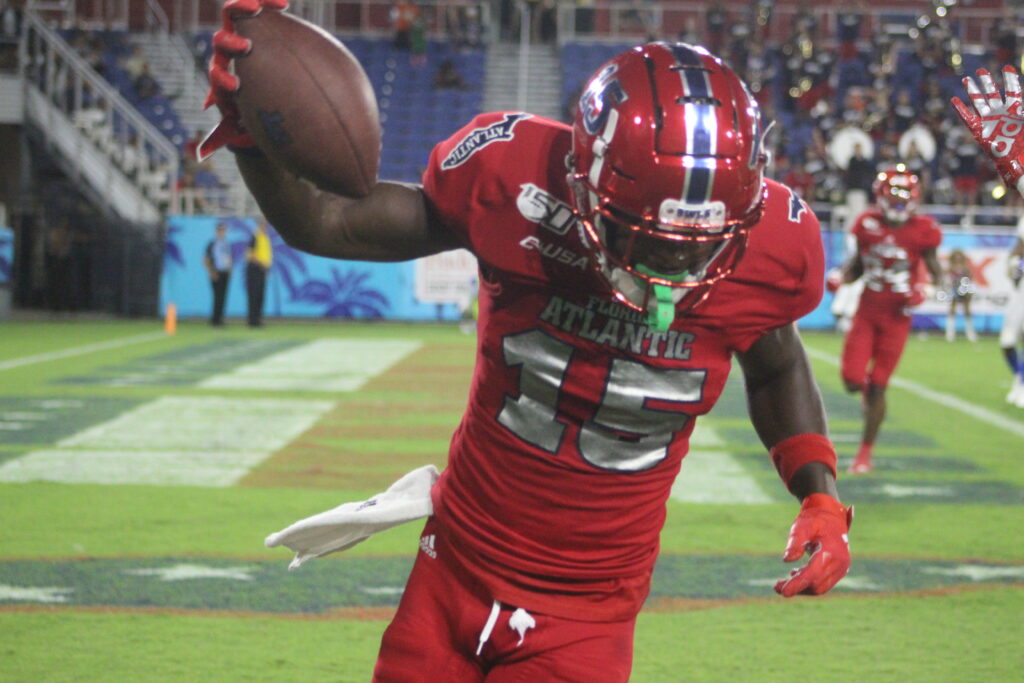 O'Hara's day would end with the line of 335 passing yards, one touchdown, and a worrisome three interceptions.
Florida Atlantic has another conference game in their sights, as the play again at home when they face Marshall, who are coming off a 31-17 victory against Old Dominion.